The work plan will work towards the following objectives:
Objective1: to provide training and tools to strengthen the capacity and resources of the voluntary service movement in advocacy work concerning peace and the environment;
Objective 2: to consolidate the previous IVS for Climate Justice Campaign outcomes and conduct concrete advocacy actions focusing on peace and the environment;
Objective 3: to support and engage young people in advocacy work for peace and the environment on a local and international level;
Objective 4: to advocate for the recognition of international voluntary service as an effective tool to support young people to contribute to and promote a just and sustainable world.
The work plan includes the following phases:
SKILLS & KNOWLEDGE: International Advocacy Training on Peace and the Environment (31 March – 4 April 2022, Peja, Kosovo);




ACT & MULTIPLY: Local Actions and Advocacy for Peace and the Environment (May - November 2022)




COMMUNICATE & CONSOLIDATE: Online Advocacy on Peace and the Environment (February - December 2022)
1. Register Your Projects, Mobilise Your Volunteers and Organise Local Advocacy Actions
International Voluntary Service projects and activities, stretching across the entire globe, uniting people of all ages and backgrounds, are a powerful tool to support local communities worldwide and allow the reallocation of resources and capacities, they support the social, cultural, economic and ecological transition that is needed to build a regenerative and reconciliatory world that promotes a circular-inclusive economic model based on global, social and climate justice.
Concretely, we will promote the Sustainability Guidelines and Checklist documents of the CoE, calling for local actions for positive change and sensitize the young volunteers' everyday life choices through the influence of youth camps style based on Sustainability Checklist. We want to invite young volunteers to share their observations of the sustainable environment in their local communities and reflections, and support them to documentate their green life/camp style stories and disseminate these opinions and voices. 
         – Local Youth Councils on Climate
            * We encourage young volunteers to set up local youth councils on climate, and/or connect their local youth groups with existing youth councils. CCIVS will provide support and resources for them to advocate for IVS and the climate issues they want to address at a local level and to give policy inputs on climate justice.
Under the work plan 2022, we specifically encourage your organisations to consider the approaches that are mentioned below and integrate them into your programmes and local advocacy actions. 
       –  Lifestyle Politics
          * 'Think global, act local'. Lifestyle politics refers to the politicization of everyday life choices, including ethically, morally or politically inspired decisions about consumption, transportation or modes of living. 
The financial support is available for 20 actions that will take place in the Council of Europe countries.
The above break-down budget is an estimation. It's understandable that your organisation or action group might need to spend higher on one budget item while spending less in another. As long as the expenditures align with the eligible items and the total amount doesn't surpass 800 EUR, it should be ok. But it's highly recommended you promptly update the budget planning situation with CCIVS, especially if you foresee to underspend much more than the budget. In this case, we can potentially plan to re-allocate your budget quota to other actions.
Organisations are required to submit the original purchase receipts to justify the costs, as well as a narrative report (template) and photos of your project.
You can apply with your projects and local advocacy actions via this form:
| | |
| --- | --- |
| Budget Categories | Estimation of Budget in EUR |
| Local transport |               100 |
| Guest speakers / facilitation  |               200 |
| Audiovisual production and documentation |               200 |
| Venue rental |               100 |
| Materials costs |               100 |
| Advocacy materials printing |               100 |
| TOTAL |               800 |
2. Request for Experts to Support your Project Planning Grant Application requests
Target Group: IVS organisations or young volunteers who wish to submit a grant application to the European Youth Foundation (EYF) of the Council of Europe and obtain funding in order to initiate their local projects on peace and the environment. 
Reference links of the funding opportunities by the EYF:
CCIVS will recruit experts on project management and grant writing to provide mentorship and follow up to the selected project concepts. According to the needs of each project, the experts will share their expertise and experiences on project cycle planning, partnership building, budget management, monitor and evaluation, grant writing technics etc. The mentorship and follow-up will be done by email exchange and online meetings arranged between the experts and young activists. 
Please note that the experts will share their feedback on your draft project proposal or provide you some relevant contacts of partnership. But they are NOT the ones who will write your grant application!
Please submit your project concept via this form:
3. Voices
Bring your voice to the table. Submit your article to share information about your local actions focusing on youth engagement and climate justice.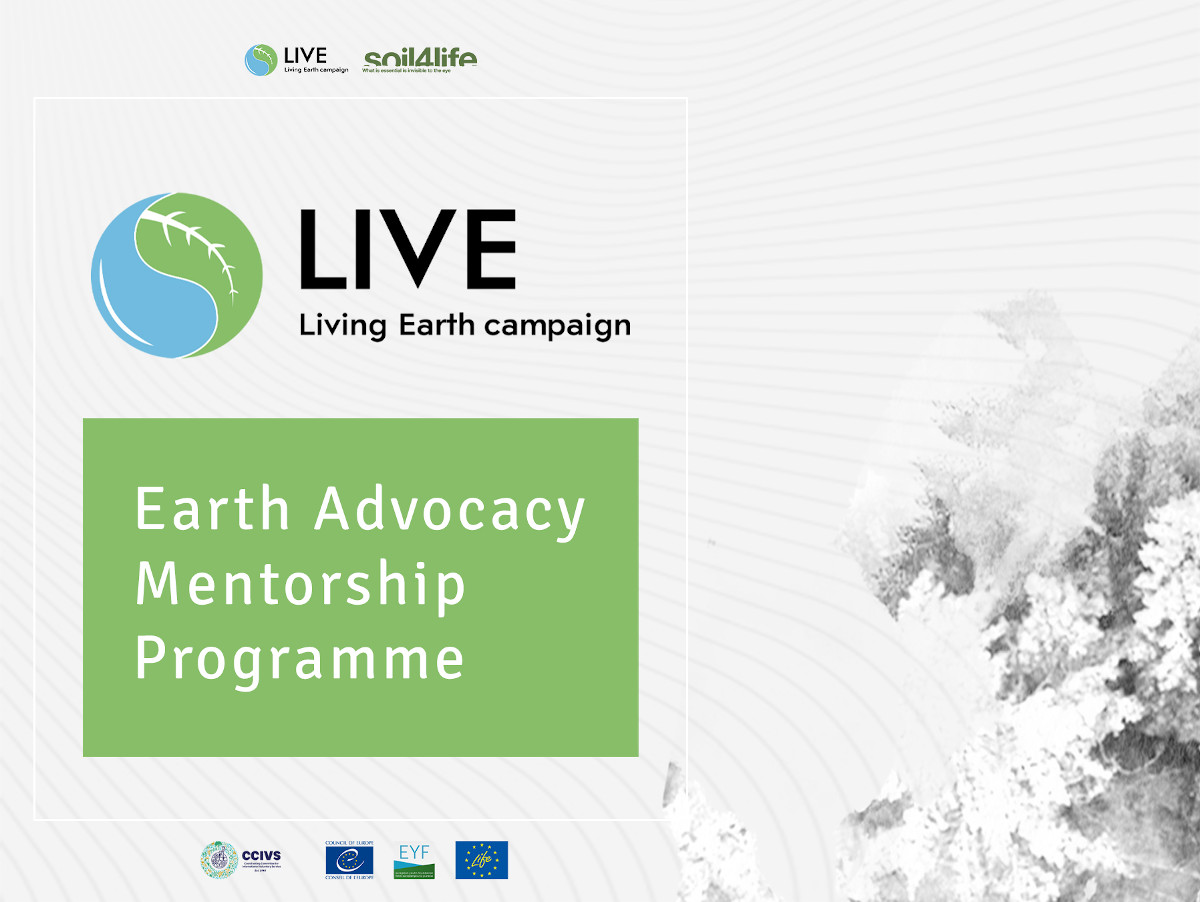 4. Earth Advocacy Mentorship programme
The programme supports young activists and volunteers to create and implement their soil ecology local actions. The mentorship programme brings the energy and enthusiasm of like-minded people.
📆 It will take 6 months and involve a Zoom meeting every two weeks. You can join the programme at any time – just watch the previous sessions and sign up to join us. 
It is a chance for peer-reviewing, empowering, sharing, and developing ideas. 
The link for the recorded sessions 
5. CCIVS Youth Committee
Young people are key to the development and promotion of CCIVS and its projects. The Committee will contribute actively to the CCIVS workplan in 2022 ensuring that the youth voice is heard and recognised. 
The Youth Committee is expected to support CCIVS by:
Contributing to the inclusion of a youth dimension in the CCIVS organisational structures and programmes by formulating opinions and proposals on general or specific questions in relation to internal structure (developing a CCIVS youth policy), advocacy, communication or campaigns;

Formulate opinions and proposals concerning the CCIVS priorities and projects;

Create biannual recommendations for the General Assembly through a participatory process led by youth with youth. These recommendations will be concrete and realistic around topics tackled by CCIVS and will result in concrete actions involving youth within the CCIVS network. Before the recommendation is presented to the GA, a member of the EC will help the YC finalise the recommendations and adjust them to CCIVS competencies;

Promote IVS values and take on youth led advocacy work
The members of the Youth Committee should be selected based on the following criteria: 
Be aged between 16 and 30;

Be nominated by a CCIVS member organisation/network;

Be motivated, available and committed to attending the Youth Committee meetings and to representing the Committee in activities relevant to its work;

Be committed to participating actively in the work of the CCIVS Youth Committee;

Have experience in at least one of the fields of action of CCIVS (e.g. be an alumni of previous CCIVS or MO projects, be engaged in local/national/international actions on the participated in IVS projects, etc.);

Composing a group of 12 – 16 young people from different regions 

Creating a diverse and gender-balanced team  

Holding a working level of English

Engagement for 2 years between two CCIVS GAs;

Be aware of the context and main issues of their country, understand youth concerns.
The Youth Committee meets online at least 3 times a year. CCIVS Members are responsible for proposing and looking for candidates to join the Youth Committee.
Candidatures (Open spaces for Council of Europe Countries)